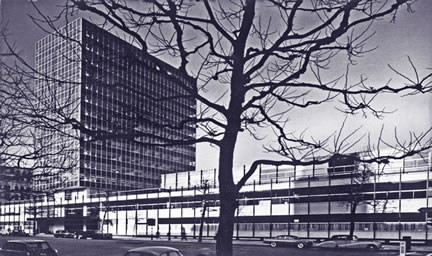 The initial concept for 'Castrol House' by Sir Hugh Casson and Neville Condor was based unashamedly on the Lever Building in New York, designed a decade earlier by Skidmore, Owings and Merrill.
'Castrol House' was the new company headquarters of C. C. Wakefield & Co, manufacturers of Castrol lubricant oils since the late 19th century. The company commissioned the popular British sculptor Geoffrey Clarke to install his largest sculptural relief in the foyer of the building.
The installation piece was appropriately called 'Extraction and Refining of Oil' and told the story of developing lubricant oils. The final work of art was over 40 feet long and 24 feet high, and could be seen from the street through the large modular windows of the modern HQ.
45 years later the piece was removed from the building and put into storage. This website brings together for the first time in one place the story of this remarkable piece of British art history, from the early maquettes to the production processes used by Geoffrey Clarke and images of the final piece in place.